Guru Parampara, a Succession of Eminent Teachers
In the great Hindu tradition, this hallowed land had been sanctified by a succession of great jagadgurus in each yug – Dakshinamurthi Swami in kṛta yug, Dattatreya Swami in trētā yug, Lord Srikṛṣna in dvāpara yug, and Adiśankarāchārya in kali yug – whose teachings have been universal. According to Sanātana Dharma, guru is God Himself. Guru teaches, nurtures, and guides His śiṣyās through a life of dharma and hence is considered the personification of God. Taittirĩya Upanishad says,
matridevo bhava . pitridevo bhava . acharyadevo bhava . atithidevo bhava . [I.11.2]
Guru Stotram further states that,
na guror adhikaṃ tattvaṃ . na guror adhikaṃ tapaḥ tattva jñānāt paraṃ nāsti . tasmai śrī gurave namaḥ
The position of eminence given to the preceptor in Hindu Dharma is nowhere else to be seen in the world. It's little wonder then that India commands the status of Viswaguru, teacher of the entire world. GuruParampara is just one of the many great traditions of India, wherein the guru, the ācharya, or the teacher who imparts the Brahma Vidya is venerated and from him the lineage of preceptors is traced upwards to the Supreme Brahman. The Lord is revered as Ādi Guru because He gave the Védās to Brahma and enlightened Him.
Paramātma, the Original Preceptor
Advaita Vedanta GuruParampara started with Lord Vishnu Himself.
nārāyanam padmabhuvam vasiṣtham śaktim ca tat-putram parāśaram ca vyāsam śukam gauḍapāda mahāntam govinda yogīndram athāsya śiṣyam śri śankarācāryam athāsya padmapādam ca hastāmalakam ca śiṣyam tam totakam vārtikakāramanyān asmad gurūn santatamānato'smi ||
As can be established from the above stotram, GuruParampara originated with Lord Nārāyana Himself, Who enlightened Brahma with the jñāna of Advaita Vedanta. Thus the Lineage of Gurus begins with the Daiva-paramparā, followed by the vedic seers of the Ṛṣi-paramparā, and the Mānava-paramparā of historical times and personalities.
Daiva-paramparā: Nārāyaṇa, & Padmabhuva (Brahmā) Ṛṣi-paramparā: Vaśiṣṭha, Śakti, Parāśara, Vyāsa, & Śuka Mānava-paramparā: Gauḍapāda, Govinda bhagavatpāda, Śankara bhagavatpāda, and then Shankara's four disciples – Padmapāda, Hastāmalaka, Toṭaka, Vārtikakāra (Sureśvara) & others and their disciples.
Mānava-paramparā starts with Gauḍapāda, who was the teacher of Govinda bhagavatpāda. Jagadguru Adiśankarāchārya was a direct disciple of Govinda bhagavatpāda. Legend has it that pleased with his penance in Badarikāśram, Narayana Himself revealed the essential wisdom of Bhagavad-Gita, the Upanishads, and the Brahma Sutrās to Gauḍapādāchārya and enjoined him to spread the light of Advaita Vedanta across the world. Thus Gauḍapādāchārya became the first guru in Mānava-paramparā.
Gauḍapādacharya
Gauḍapāda wrote or compiled the Māṇḍukya Kārikā, or the Gauḍapāda Kārikā, also known as the Āgama Śāstra. The Māṇḍukya Kārikā is the earliest extant systematic treatise on Advaita Vedānta. It's a concise explanation, in verse form, of the doctrines in Māṇḍukya Upanishad, one of the shortest but a profound Upanishad, consisting of just twelve prose verses. The Kārika presents rational arguments from dream states, infinitude and finitude, space and time, causality, disintegration, and generation in support of the Advaita doctrine.
Gauḍapāda's fundamental philosophical doctrine of the Advaita Vedanta is known as Ajātavāda. According to Gauḍapāda, the Absolute is not subject to birth, change and death. The Absolute is aja, the unborn eternal. The empirical world of appearances is considered unreal, and not absolutely existent. This following verse appears in the second Chapter [v. 32, vaithathya prakarana] of Gauḍapāda Kārikā. It means really that there is no creation and no dissolution. There is no bondage, no one doing spiritual practices, no one seeking spiritual liberation, and no one who is liberated. One who is established in the Self [experiences in the Self] sees this by his knowledge of reality.
na nirodho na cotpattirna baddho na ca sādhakaḥ | na mumukṣurna vai mukta ityeṣā paramārthatā || 32 ||
Govinda bhagavatpāda
Govinda bhagavatpāda was a direct disciple of Gauḍapādāchārya and the recipient of the Ajātavāda doctrine of the Advaita Vedanta from the originator. The guru-śiṣya duo of Gauḍapāda and Govinda were once on a pilgrimage to Kashi, a young boy named Śankara visited them at their aśram in search of tutelage of the great gurus, and spontaneously recited the famous Dasasloki. Gauḍapādāchārya from his divine vision realized that the young boy was an incarnation of Lord Shiva and was born to uplift, strengthen, and spread the Sanatana Dharma and instructed his Govinda bhagavatpādāchārya to give deeksha to Shankara and take Him as his śiṣya. After giving deeksha, Govinda bhagavatpādāchārya instructed Śankara bhagavatpāda to write a commentary on the Brahma Sutras and propagate the Advaita philosophy. Śankarachaya lived with his Guru for some more years and acquired deeper knowledge of the Scriptures. He went on to become the most influential Vedanta philosophers of all time and became the Jagadguru.
śruti smriti purāṇānām ālayam karunālayam | namāmi bhagavatpādam śankaram loka śankaram ||
Śankarachaya paid rich tributes to Gauḍapādāchārya, addressing him as his parama guru, at the end of his famous commentary on Gauḍapāda Kārikā, and crediting him for recovering Advaita Vedanta from the Vedas.
prajñā-vaiśākha-vedhakṣubhita-jalanidher-vedanāmno'ntarasthaṃ bhūtānyālokya magnānya-viratajananagrāhaghore samudre | kāruṇyāduddadhāramṛtamidam-amarair-durlabhaṃ bhūtaheto- ryastaṃ pūjyābhipūjyaṃ paramagurumamuṃ pādapātairnato'smi || 2 ||
'I prostrate at the feet of that Great Teacher, the most venerable among the venerable – who out of sheer compassion towards the beings drowned in the deep ocean of the world, infested with the terrible sharks of incessant births (and deaths) – rescued, for the benefit of all, this nectar, hardly obtainable even by the Gods, from the innermost depths of the ocean of the Vedas by churning it with his enlightened intellect.'
Sri Sri Sri Bodhānandendra Saraswati
Sri Bodhānandendra Saraswati Mahāswamy is the preeminent preceptor of Visakha Sri Sarada Pīṭhaṃ. Revered as an ocean of spiritual knowledge and worshipped as the teacher who gave tutelage, and deeksha to Sri Satchidānandendra Saraswati Swamy, so that he became the successor in Guru Parampara.
Jagadguru Sri Adisankaracharya Swamy
aṣṭa varṣe caturvedi dvādaśe sarva śāstravat |
ṣodaśe kṛtavan bhāṣyam dvatrimśe munirabhyagāt ||
- His Holiness Shri Chandrasekharendra Saraswati Swamy, the 68th Pīṭhādhipati of Kanchi Kamakoti Pīṭham, the 'Walking God', Maha Periyava or Paramacharya
His Holiness Kanchi Paramācharya paid rich tributes to Jagadguru Adisankaracharya in this succinct chronicle of Jagadguru's life. At the young age of eight, He had learnt all the Vedas; by twelve He had mastered all the Scriptures; at the tender age of sixteen, He had written accomplished commentaries on Prastāna Traya – Bhagavad Gita, the Upanishads, & the Brahma Sutras; and at thirty-two, He had left for His heavenly abode after successful accomplishment of His mission on earth.
Sri Adisankaracharya, considered an 'avatar' of Lord Shankara Himself, had been credited with unifying the factious Hindu society divided into numerous sects and ritualistic cults, rejuvenating and strengthening Hinduism, and articulating Advaita Vedānta – a philosophy around which the entire Hindu society rallied.
dharma-sansthāpanārthāya sambhavāmi yuge yuge
Lord Sri Krishna told Arjuna that whenever there was subversion of Dharma by the forces of adharma or evil, the lord incarnates Himself to firmly re-establish Dharma. Life and times of Sri Shankaracharya coincide with a period of great political turmoil, and religious fragmentation. Sanatana Vaidik Dharma, or what is universally known as the Hinduism was under a severe threat not only from the other religions – mostly Buddhism, and to a lesser extent Jainism and Islam, but also from the myriad sects and splinter groups within the Hinduism, most of which are were not following the Vedas & the other Scriptures. Consequently, the society started degenerating into adharma. It was time for God to descend upon earth and dispel the darkness and spread the light of dharma again. So He did!
Lord Siva incarnated Himself and was born as Shankara to Aryamba and Sivaguru in a remote village in Kerala, called Kaladi. Eager to fulfil His mission on earth, young Shankara relinquished the material world at a tender age and became a sannyāsī, and became a disciple of Shri Govinda Bhagavatpadacharya – who indoctrinated young Shankara into the Advaita Vedānta.
Sri Adisankaracharya holds an exalted position among the Hindu religious philosophers. His was a resplendent personality. A spiritual guru of great standing who had shown the path of self-realization, a philosopher of immense intellect, a preeminent scholar with an ocean of knowledge of the Hindu Scriptures, a zealous reformer who strove for the welfare of the mankind, a fountain of divinity, a leader among men and a visionary, and Jagadguru !
Sri Sankarachaya shines bright like Sun in the firmament of great Hindu scholars. While Sri Sankaracharya was the fiercest champion of the Sanātana Vaidika Dharma, His religious philosophy is quite distinctive compared to that of His predecessors. His teachings and commentaries are as timeless as they are contemporaneous. His Doctrine of Advaita has universal appeal, and transcends the boundaries of time, place, or language in its reach.
śruti smriti purāṇānām ālayam karunālayam |
namāmi bhagavatpādam śankaram loka śankaram ||
Adi Shankaracharya was a prolific poet-philosopher and over 300 literary works have been attributed to Him – commentaries, hymns or stotras, and instructional literature.
Bhāshya Granthās, or commentaries on the Bhagavad Gita, the Upanishads, the Brahma Sūtras, Vishnu Sahasra Nāmam, Lalithā Trisati, and Yoga Sūtras among others.
Devotional hymns including Ganesha Pancha Rathnam, Sivānanda Lahari, Veda Sāra Siva Sthothram, Soundarya Lahari, Syāmalā Navarathna Mālikā, Māthru Panchakam, Nārāyana Stotram, Sankata Nāsana Lakshmi Nṛsimha Karavalamba Stotram, Kanaka Dhāra Stotram, Hanumat Pancha Ratnam, Dwādasa Jyothirlinga Stotram, and many more.
Prakarana Granthās such as Advaitha Anubhuthi, Atma-Anāthma Vivekam, Upadesa Sahasri, Sarva Vedhantha Sidhdhantha Sara Sangraham, Manishā Panchakam, Viveka Chudāmani, Tatva Upadesam, Prabodha Sudhākara, Nirvāna Shatkam, and so on.
Visākha Śri Śāradā Peeṭham strictly adheres to the unique traditional method of teaching Vedanta – the Method of Deliberate Superimposition and Negation – as enunciated by Sri Adisankaracharya in His Commentary on Bhagavad Gita, 'adhyāropa-apavādābhyām nishprapancham prapanchyate'.
Also, Visākha Śri Śāradā Peeṭham is the only Hindu monastery where the Commentary of Sri Shankaracharya is taught 'as it is'; and the Goddess, Sri Śāradā Swarupa Rājaśyamala and Sri Shanmukha Subrahmanyeśwara Swamy are worshipped.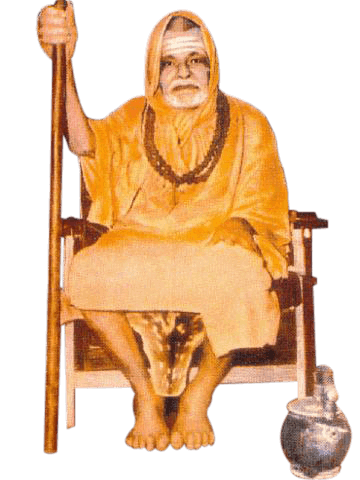 Sri Sri Sri Satchidānandendra Saraswati Swamy, an incarnation of Ādi Śankara
Sri Satchidānandendra Saraswati Swamy – the grand-preceptor of Visakha Sri Sarada Pīṭhaṃ – is considered an avatār of our times of Sri Ādi Śankara by his ardent followers and devotees. Sri Satchidānandendra Saraswati Swamy [1880-1975] strove for the spiritual development of the entire world during his great, eventful life. Considered one of the greatest exponents of pristine, pure Advaita Vedanta philosophy of Śankara in modern times, he is credited with reviving Śankara's original method of teaching Vedanta - the Adhyaropa-Apavada. A prolific writer, he penned nearly 200 works and made a huge impact on his disciples, monk-philosophers, and Vedanta scholars alike. He mentored many sādhakās on their path to attain brahma Jnana. He was known as a jivanmukta sage. He was the best example of a Sanskrit saying, "One should spend one's life until sleep and until death only in Vedantic contemplation".
The life of Sri Satchidānandendra Saraswati is rife with divine spiritual experiences and miraculous events. He wanted to receive initiation into rāma tāraka mantra from Brahma Chaitanya Sadguru Maharaj and went to Sadguru Maharaj's Hubballi ashram. Maharaj received Satchidānandendra Saraswati with open arms and hugged him to his bosom. At the very moment, Satchidānandendra heard the tāraka mantra – 'rāma rāma' – from Sadguru Maharaj's heart. Thus, Sadguru Maharaj fulfilled Satchidānandendra's wish even without asking for the same!
Sri Satchidānandendra's initiation into sannyasa was another miraculous event. Once upon a day, while Sri Satchidānandendra was meditating deeply upon Sri Ram, Sri Bodhānandendra Saraswati Mahāswamy appeared to him and inducted him into sannyasa. He also bestowed Satchidānandendra with danḍam [the short, forked stick used by sannyasin], kamanḍalam [the holy container holding water for sannyasin] and gave him the instruction on praṇavam [the knowledge of the primordial sound, 'aum'], and the mahāvākyās. Finally, Sri Bodhānandendra Saraswati gave the title of Satchidānandendra Saraswati to his distinguished disciple. But when Sri Satchidānandendra Saraswati returned from the river after his ritual bath he could not find Sri Bodhānandendra Saraswati. He then got a fleeting glimpse of his revered guru before he vanished under an Aśvattha tree. Sri Satchidānandendra Saraswati realized in an instant that it was Lord Rama Himself who appeared in the form of Sri Bodhānandendra Saraswati to give him the deeksha. He was initiated into sannyasa in 1948, at a ripe age of 68 and lived a life of an ascetic, simple and secluded at his small ashram.
Sri Satchidānandendra Saraswati Swamy – venerated as Abhinava Śankara by his disciples, devotees, and other seekers – made immense contribution towards the spiritual development of mankind in general and towards dissemination of Advaita Vedanta knowledge in specific, by authoring many canonical works on the subject and by establishing Adhyatma Prakasha Karyalaya, a 'spirituality workshop'.
Sri Satchidānandendra Saraswati Swamy founded Adhyatma Prakasha Karyalaya in His pūrvāśrama as Yallambalase Subrahmanya Sarma (Y Subbarayya), in 1920, with the goal of "Enabling a higher place for Adhyatma Vidya in people's lives". The Karyalaya was in the center of all activities of Swamiji. Satchidanandendra Saraswati Swamy was a monk-philosopher in the tradition of great Hindu sages who dedicated all his life for the Vedanta sādhana. He was credited with cleansing Advaita Vedanta of all the distortions that had accumulated over a millennium of post-Śankara era, and presenting it in its pure, pristine form. In The Method of the Vedanta. A Critical Account of the Advaita Tradition (1989–1997), Satchidanandendra Saraswati gives a critical account of the Advaita tradition. He argues that while Padmapada had been the most influential of Śankara's disciples, it was Suresvara who represented Śankara's philosophy accurately. According to Swamiji, the later Advaitins were influenced by Mandana Misra and Bhaskara. A prolific author who excelled himself in writing and interpreting the original bhāshyas, or commentaries of Śankara, Swamiji meticulously weeded out the misinterpretations and misunderstandings about Sankara's Advaita through his many canonical texts.
"A Sublime Confluence: When a Great Sage-Philosopher met a Great Scholar-Philosopher"
Sri Satchidānandendra Saraswati Swamy paid a respectful visit to Sri Chandrasekharendra Saraswati Mahaswami, the 68th Jagadguru Shankaracharya of the Kanchi Kamakoti Peetham, in 1961 at Karaikudi. The legend has it that when the Mahaperiyava noticed Swamiji approach, he asked the scholars, philosophers, and sages assembled around Him the meaning of the Sanskrit sūkti, 'asupteh amṛteh kalam nayet vedanta chintaya'. When the noble men answered that a man should spend his entire time/life in cogitation over Vedanta while he was awake and alive. And then Sri Chandrasekharendra Saraswati Mahaswami told the august assemblage that Sri Satchidānandendra Saraswati Swamy is the personification of the famous sūkti, who dedicated his life to the study and propagation of Vedanta. Such was the reverence shown to Sri Satchidānandendra Saraswati Swamy by the Great Sage, Jagadguru of the Kanchi Kamakoti Peetham.While Jagadguru of the Kanchi Kamakoti Peetham was a taponidhi – an ascetic-philosopher, revered by His devotees as the Walking God, Sri Satchidānandendra Saraswati Swamy could be considered a jnānanidhi – a scholar-philosopher who was the grand-grand-preceptor of Visakha Sri Sarada Peetham. Thus this great confluence can be termed as the coming together of the immense powers of penance and knowledge.
Sri Satchidānandendra Saraswati Swamy is one of the leading lights in the Guru Parampara of Visakha Sri Sarada Peetham. He ordained Sri Sri Sri Advaitānandendra Saraswati Swamy as His successor and bestowed sannyasa deeksha to him to continue the great lineage.
Sri Sri Sri Advaitānandendra Saraswati Swamy, Jnānamūrti – Personification of Vedanta Wisdom
Sri Advaitānandendra Saraswati Swamy was a great religious scholar who promulgated the pre-eminence of Sanātana Dharma to the world, was a great sage who has shown the world how to live a life of an ascetic seeking the truth and following the path of dharma, a great monk-philosopher whose life was an epitome of a sannyasin's way of life relinquishing the material world and dedicating oneself to tapasya.
Sri Advaitānandendra Saraswati Swamy, the grand-preceptor of Visakha Sri Sarada Peetham known for his Reforming zeal, is credited with transforming a village in Shivamogga district of Karnataka, where everyone speaks in Sanskrit irrespective of their religion, or caste. Sri Advaitānandendra made everyone in the village of Mattur adopt Sanskrit as their Mother Tongue and use the same for day-to-day communication. This beautiful village on the banks of Tunga River has the distinction of being the only Sanskrit village in the entire country.
The air in the village reverberates with the Vedic chants emanating from the houses, and the earth is sanctified with the burnt offerings made in yajnās, the ritual fires. The man behind all this is none other than the most revered guru, Paramahamsa, Parivrājakāchārya Sri Sri Sri Advaitānandendra Saraswati Swamy himself. He was a prominent scholar in the Vedas, the Upanishads, and the Scriptures. He was the direct disciple of Sri Satchidānandendra Saraswati Swamy and the direct preceptor of the Founder-Peethadhipathi Sri Swaroopanandendra Swami. Such is the distinguished Vedic lineage of Sri Visakha Sarada Peetham.
Sri Sri Sri Swaroopanandendra Saraswati Swami
The year was 1964. It was the Eighth day in the month of November, Sunday. Krodhinama samvatsaram Kartika Sukla Chavithi, celebrated as Naga Chaturthi – the day on which Sri Swaroopanandendra Saraswati was born in Derasam village, near Ranastalam of Srikakulam district. It was the day on which a worthy successor was born to the great legacy of Sri Ādi Śankarāchārya. It was the day on which an illustrious ascetic-scholar-philosopher was born with a mission to guide the world onto a Path of Jnāna – the Vedic wisdom. He was the sixth and the last child named Narasimham in pūrvāśrama of the blessed parents – Srimati Kalyanamma & Sri Chinnayya Pantulu. As is the wont of great men, he showed flashes of his spirituality and keen interest in the knowledge of the Supreme Being. Young Narasimham shifted to Waltair for education along with his elder brother. He became a vaṭu at a young age through upanayana samskāra, ceremony of investiture with the sacred-thread, and continued with his anusṭhanam with religious zeal.
In his younger days, Mahaswamiji became interested in mantra śāstra and learned the same from Sri Rāmachandra Bhat, worshipping Sri Subrahmanyeswara Swamy as the Principal Deity. Around this time he started getting drawn to study of Vedanta. Gradually he lost interest in the material world and used to abscond to Tamil Nadu to visit the great temples there. Having been brought up in a traditionally religious household, young Narasimham used to regularly listen to the spiritual discourses by the learned men who visited their home. He used to learn the knowledge of the Hindu Scriptures from these holy men. He also used to discuss matters spiritual with them to attain clarity. He used to frequent Shanti Ashram, located on a beach in Vizag, to participate in congregations on the Scriptures. It was at one such religious assembly that he met Sri Gangadharam, who initiated Swamiji into yoga. Yogacharya Gangadharam taught him the essence of the great tomes – Yoga Vāsiṣṭha, Vedānta Paṃcadaśī, and Vivekacūḍāmaṇi. All these early years of quest for Vedic knowledge culminated in Swamiji's decision to relinquish the material world and to take sannyasa deeksha. He yearned to disseminate Advaita Vedanta across the world to emancipate the mankind.
Swamiji's Quest for Spiritual Development
The first post on his spiritual journey was Haridwar via Delhi. He met a sage at Haridwar who bade him to go to Rishikesh – located on the foothills of the Himalayas in the State of Uttarakhand, known as Devbhumi & considered to be an abode for the Gods and rishis. Here at the Kailash Ashram, Sri Sadguru met Swami Medhananda Puri, a distinguished traditional teacher of Vedanta. Swami Medhananda sensed acute spiritual consciousness of Swaroopanandendra and encouraged him on his journey of transcendental pursuit. Later on, Swaroopanandendra went to Sivananda Ashram and met the great sage Swami Devananda.
He studied Vyākaraṇam, and Śankara Bhāshyam at the Kailash Ashram. He was the most popular inmate of the Ashram. Concurrently, he studied Tarka, Mīmāmsa, Nyāya, and Sānkhya śāstras from Sri Nārāyaṇānanda Saraswati Swami. Sri Nārāyaṇānanda was a strict disciplinarian and would not accept coming late to the discourse, even by a second. Which meant that Sri Swaroopanandendra had to run at full tilt for around 6 km from Kailash Ashram to attend Sri Nārāyaṇānanda's sessions. It bears a testimony to his keen interest in the study of śāstras that he used to cover this distance in a quarter of an hour. He used to wake up at three in the morning, perform his morning rituals on the banks of Ganga, attend the discourse on Śankara Bhāshyam at Kailash Ashram at six in the morning, and then go to Sri Nārāyaṇānanda for studying śāstras.
While at Rishikesh, Sri Mahaswami became acquainted with Shri Swami Vairagyanand Ji Maharaj of Advait Maṭh and spent some time at the Maṭh. This association further stimulated his interest in Advaita Vedanta.
Sri Mahaswami's journey had become more arduous from here onwards. He travelled to Devaprayaga through thick forest inhabited by ferocious animals, sleeping in the caves during the night. He met the fabled nāgā sādhus en route whose way of life amazed Swaroopanandendra. He travelled with them for a while chanting Shivashtakam and Bilvashtakam. He consumed only fruits as food during these travels. Eventually, he reached Badarikāśram [Badarikāvanam] in the Himālayas, the abode of Lord Nara-Nārāyaṇa, where he met many eminent sages.
From Badarikāvanam, Swaroopanandendra set forth towards the Kedarnath, one of the twelve Jyotirlingas, the holiest Hindu shrines of Shiva. But, he had to cut his journey short and return to Visakhapatnam when the news of failing health of his yogāchārya Sri Gangadhram reached him. So deep was his attachment to the guru that Mahaswami performed the last rites of Sri Gangadhram as per guru's wishes.
Mahaswami started the most important part of his life's journey as a preceptor from a humble abode in China Mushidiwada, Visakhapatnam, giving discourses on Sanātana dharma. Soon, the number of disciples started swelling. Mahaswami visited Rishikesh and Haridwar again, this time along with the sādhakās. This pilgrimage was followed by other yātrās – Gangotri, Yamunotri, and Chār Dhām – all on foot.
Around the same time, Sri Mahaswami heard of Sri Satchidānandendra Saraswati Swamy and His Adhyatma Prakasha Karyalaya in Holenarasipura, Hassan district, Karnataka, India. Sri Mahaswami became enamoured by the work of Sri Satchidānandendra Saraswati Swamy – especially His authentic commentaries and interpretations of the original Śankara Bhāshyam. Sri Mahaswami reached Holenarasipura and studied Paramartha Chintamani, the Magnum opus of Sri Satchidānandendra Saraswati Swamy that explains the subtle and secret teachings of Mandukya Upanishad using Avasthathraya Prakriya – the method of the three states of Consciousness, to wit, waking, dream & deep sleep which our Real self transcends. Mahaswami felt a deep urge to embrace sannyasa deeksha and meditated near the Samadhi of the Paramayogi Sri Satchidānandendra Saraswati Swamy. He then met Sri Nityānanda Saraswati and on his advice reached the village of Mattur in Shivamogga district, Karnataka, where the inhabitants lead their lives as prescribed in the Vedas. It is believed that if one takes sannyasa deeksha here, one attains the Path of Meditation faster. In fact, Mattur is one of the only two villages in India where Sanskrit is the day-to-day language. This village also has the distinction of being the abode of Sri Advaitānandendra Saraswati Swamy, who is a direct disciple of the Paramayogi Sri Satchidānandendra Saraswati Swamy.
Mahaswami persuaded Sri Advaitānandendra that he chose to take sannyasa deeksha as the material world did not interest him and he wanted to seek the truth of behind the birth and life. Advaitānandendra was impressed by the sincerity of Mahaswami's request and acknowledged that induction of youth is essential for consolidating, developing, disseminating, and fortifying Sanātana Dharma. But, he insisted that Mahaswami comes with a Consent Form from his mother – as is the appropriate procedure laid out for induction into sannyasa ashram. So, Mahaswami came back to Visakhapatnam, persuaded his mother with great difficulty, and started his journey back to Mattur with the Consent Form. En route, he went to Srisailam and visited Jnānānandendra Saraswati, went to Kanchi and took blessings from Kanchi Kama Koti Pīṭādipati, Sri Jayendra Saraswati.
Finally, Mahaswami's wish had been fulfilled and he was given the sannyasa deeksha by Vedic scholars on a full-moon day before Shivaratri, as per the Vedic rituals, amidst rousing applause from the people of Mattur. At the same time, the title of Swaroopanandendra Saraswati was bestowed upon him by Sri Advaitānandendra. When Mahaswami expressed his desire to live a life of sannyasin in Uttara Kashi propagating dharma, Sri Advaitānandendra did not agree with him. Instead he ordered Sri Swaroopanandendra Saraswati to establish Śankara Peetham in Visakhapatnam. Thus Mahaswami returned to Visakhapatnam as yati in 1996 and wanted to establish Visakha Sri Sarada Peetham to preserve, to consolidate, and to disseminate the tenets of Hindu dharma with Vedic wisdom as the foundation. He envisaged the Peetham as a knowledge hub & broadcasting centre for Hinduism. Initially he named his abode as Upanishadvihar. Swaroopanandendra Saraswati established the Visakha Sri Sarada Peetham in the year of 1997 and has become the first Pīṭhādhipati.
Great knowledge of the śāstras counts for nothing if one doesn't align himself with the Vedic way of life. According to Sri Swaroopanandendra Saraswati Swami, the real Advaita is "knowing one's own self". He made it his life's mission to set his disciples on this journey of discovering one's self and to guide them through the right path.
He credits the establishment of the Peetham to the Will of God, in all humility!